Auld Lang Syne
This is an online fiddle lesson for the tune "Auld Lang Syne." BluegrassDaddy.com is your best source for Bluegrass, Old Time, Celtic, Gospel, and Country fiddle lessons!
Genre: Holiday, Celtic
Skill Level: Beginner, Intermediate
Key of D
You may download and use any of the MP3s and tablature for your personal use. However, please do not make them available online or otherwise distribute them.
NOTE: If multiple videos and MP3s are loading at once, this page will get slow! I recommend that you refresh the page each time you open a new video or MP3.
Video #1: Here is a video of me performing the fiddle tune "Auld Lang Syne."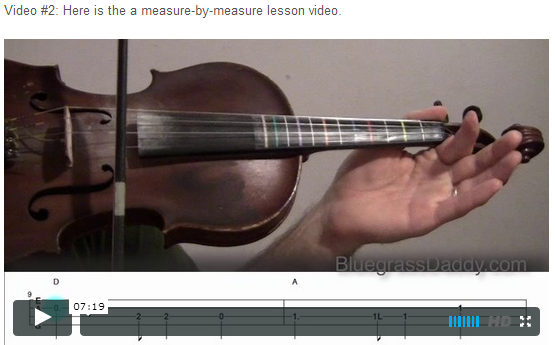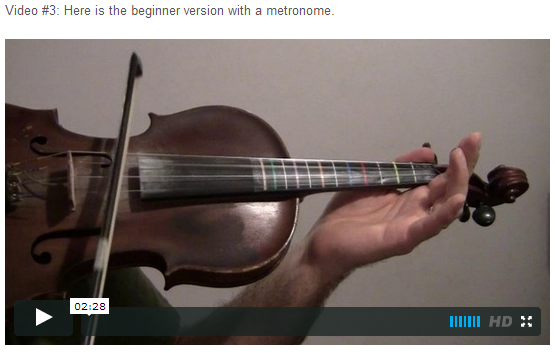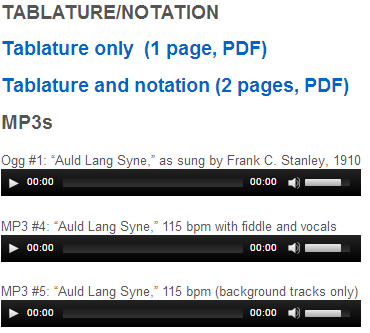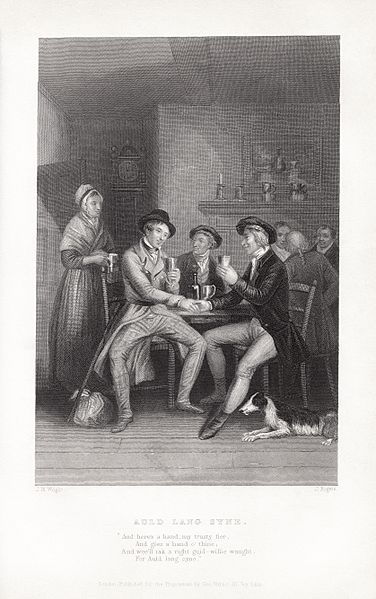 John Masey Wright and John Rogers' illustration of the poem, c. 1841.
"Auld Lang Syne" is a Scots poem written by Robert Burns in 1788 and set to the tune of a traditional folk song. It is well known in many countries, especially in the English-speaking world, its traditional use being to celebrate the start of the New Year at the stroke of midnight. By extension, it is also sung at funerals, graduations and as a farewell or ending to other occasions.
The song's Scots title may be translated into English literally as "old long since". "For auld lang syne", as it appears in the first line of the chorus, might be loosely translated as "for (the sake of) old times".
The tune to which "Auld Lang Syne" is commonly sung is a pentatonic Scots folk melody, probably originally a sprightly dance in a much quicker tempo. English composer William Shield seems to quote the "Auld Lang Syne" melody briefly at the end of the overture to his opera Rosina, which may be its first recorded use. The contention that Burns borrowed the melody from Shield is for various reasons highly unlikely, although they may very well both have taken it from a common source, possibly a strathspey called The Miller's Wedding or The Miller's Daughter. The problem is that tunes based on the same set of dance steps necessarily have a similar rhythm, and even a superficial resemblance in melodic shape may cause a very strong apparent similarity in the tune as a whole. For instance, Burns' poem Coming Through the Rye is sung to a tune that might also be based on the Miller's Wedding. The origin of the tune of God Save the Queen presents a very similar problem and for just the same reason, as it is also based on a dance measure. Songwriter George M. Cohan quotes the first line of the "Auld Lang Syne" melody in the second to last line of the chorus of "You're a Grand Old Flag." It is plain from the lyrics that this is deliberate.
Source: Wikipedia
Here is the version that I perform, based on the poem by Robert Burns (below):

       D                A
Should old acquaintance be forgot,
    D                G
and never brought to mind ?
       D                   A  F#m
Should old acquaintance be forgot,
    Bm  G    D
and old lang syne ?

CHORUS:
G   D         A
For auld lang syne, my dear,
G   D         G
for auld lang syne,
      D             A        F#m
we'll take a cup of kindness yet,
    Bm   G    D
for auld lang syne.

We two have walked among the hills,
and plucked the daisies fine ;
But we've wandered many a weary foot,
since auld lang syne.

We two have waded in the stream,
from morning sun till dine ;
But seas between us broad have roared
since auld lang syne.

CHORUS

Here is the original Robert Burns poem:

Should auld acquaintance be forgot,
and never brought to mind ?
Should auld acquaintance be forgot,
and auld lang syne ?

CHORUS:
For auld lang syne, my jo,
for auld lang syne,
we'll tak a cup o' kindness yet,
for auld lang syne.

And surely ye'll be your pint-stowp !
and surely I'll be mine !
And we'll tak a cup o' kindness yet,
for auld lang syne.

CHORUS

We twa hae run about the braes,
and pu'd the gowans fine ;
But we've wander'd mony a weary fit,
sin auld lang syne.

CHORUS

We twa hae paidl'd i' the burn,
frae morning sun till dine ;
But seas between us braid hae roar'd
sin auld lang syne.

CHORUS

And there's a hand, my trusty fiere !
and gie's a hand o' thine !
And we'll tak a right gude-willy waught,
for auld lang syne.
CHORUS