Welcome to my Online Fiddle Lessons! My name is John Cockman, and I live in the Appalachian Mountains of Watauga County, NC. First of all, thank you for your subscription. This site supports my musical outreach here in Western NC.


Some members of my free fiddle camp performing at Altapass Apple Orchard on the Blue Ridge Parkway
I was born just south of Blowing Rock, NC, but grew up in Sherrill's Ford on a peach farm. I discovered my love of fiddling at the age of 13 when I formed a bluegrass gospel band with my father, older sister, and three younger brothers. We call ourselves The Cockman Family, and perform regularly to this day.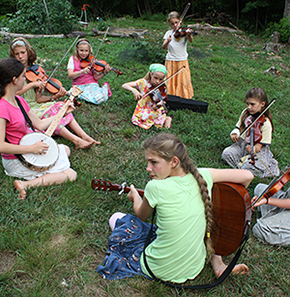 Since those days, I have played fiddle professionally and semi-professionally. My favorite styles are bluegrass, old-time, gospel, and Canadian, and I also play some country, blues, and various Celtic styles. I moved back to Blowing Rock in 1992, and married my wife Jennifer in 1996. In and in 2000 and 2001 we were blessed with two beautiful daughters, Arwen and Lorien. In 2015 we adopted another daughter, Morgen. We all make music together, and perform locally at churches and festivals.
In 2000 I began teaching Physics at Appalachian State University in Boone, NC. In my new role as a teacher, I began to wonder what I could do to help pass down the kind of bluegrass and old-time fiddling that I had grown up playing. In 2008, I began to offer "free fiddle lessons" to local youth, who meet at my home every Tuesday evening during the summer. I have had as many as 50 students attend these lessons, which culminate in a family fiddle recital in Valle Crucis at the end of the summer. At the same time, I started uploading brief free lessons onto YouTube, at channel JohnsFiddleLessons.
As a family growing up, we had no television, video games, or other "modern" form of entertainment, and so we made music. My mother played piano and my father played guitar, and they taught us how to sing and harmonize at an early age. We cut our musical teeth on hymns and old country ballads, until one night my father heard a group called Doyle Lawson and Quicksilver, and we fell in love with bluegrass gospel. Soon we were singing and playing at local churches and fiddlers conventions, receiving encouragement and praise from all the area musicians that we looked up to and wanted so badly to emulate. It wasn't until later that I really began to appreciate what the older musicians had done by stepping back in order to allow the younger ones to come to the forefront.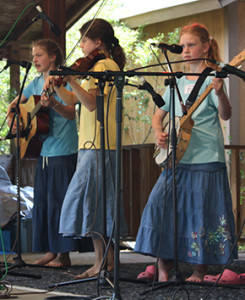 From my summer fiddle camp, a half-dozen youth bluegrass and old-time bands have formed, which have become involved in performing at festivals, churches, rest homes, and fiddlers conventions. In 2013, a good friend purchased BluegrassDaddy.com, and gave it to me so that I could create a fiddle lesson website dedicated to online fiddle instruction. I then determined to create the best fiddle lesson resource on the internet, and to offer it at an affordable price. It is my vision that people all over, not just here in the mountains, will begin to love and play the music that we grew up with.
Thank you for becoming a member of BluegrassDaddy.com and for supporting my efforts to pass down this great music. It is my prayer that the proceeds from this site will enable me to expand my free local instruction, and help even more of the kids here, and around the world, to learn and to perform the music of their rich and unique mountain heritage.


The goats listen to some jamming at my house before Fiddle Camp begins