Black Mountain Rag
This is an online fiddle lesson for the fiddle tune "Black Mountain Rag."  This tune is by special request for Chuck Ryan.
BluegrassDaddy.com is your best source for Bluegrass, Old Time, Celtic, Gospel, and Country fiddle lessons!
Genre: Old Time, Bluegrass
Skill Level: Intermediate, Advanced
Key of A
You may download and use any of the MP3s and tablature for your personal use. However, please do not make them available online or otherwise distribute them.
NOTE: If multiple fiddle lessons and MP3s are loading at once, this page will get slow! I recommend that you refresh the page each time you open a new video or MP3.
Video #1: Here is a video of me playing "Black Mountain Rag" in standard tuning.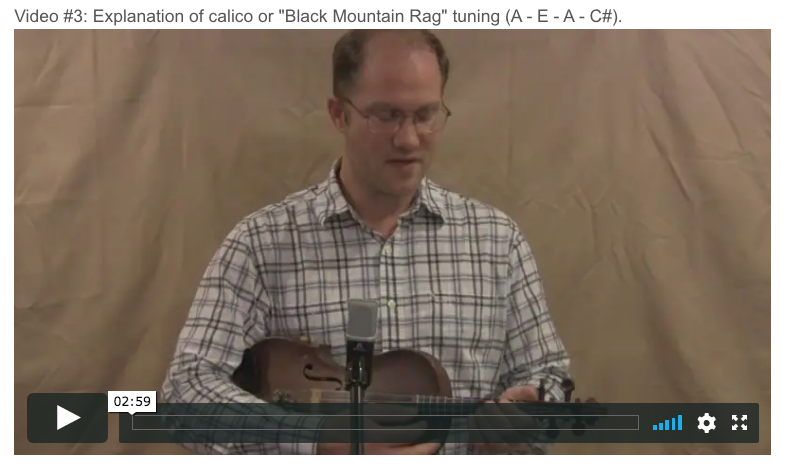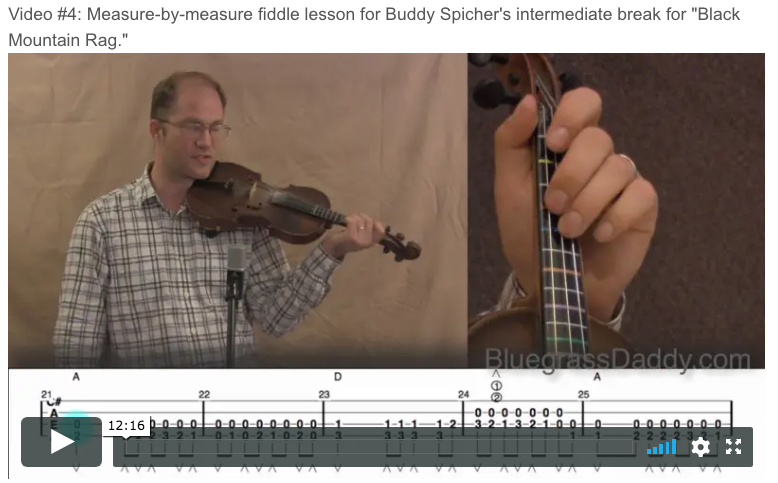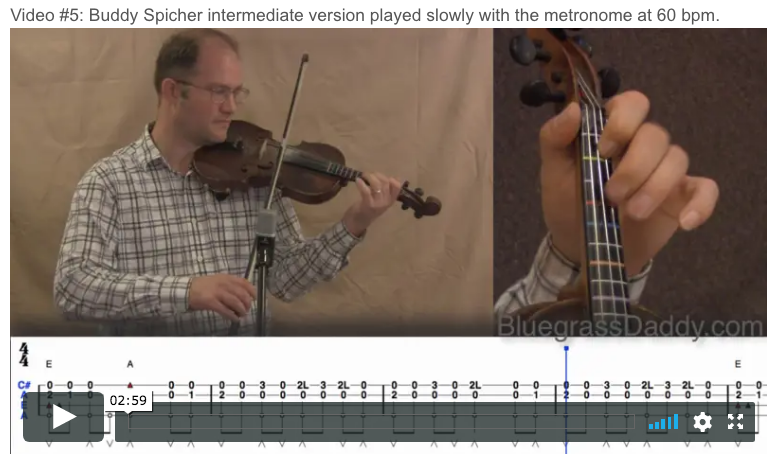 The Black Mountain Rag is one of the most recorded tunes in fiddle repertoire, most famously by Doc & Merle Watson in the 1980s. The Black Mountain is supposedly a particular stretch of mountains in North Carolina. A Rag is a type of music now most common in Jazz that is based on elaborately syncopated rhythm with a steadily accented accompaniment.
Leslie Keith, a fiddle player with the Stanley Brothers, supposedly wrote the tune in the late 1930's.  (wikipedia.org)
The piece became popular in the late 1930's. It was claimed by fiddler Leslie Keith (who is featured on the very first recordings of the Stanley Brothers), who said he wrote it in the late 1930's after taking "a little bit of" 'The Lost Child', and " a little of two or three of the Carter Family's tunes." He named it "Black Mountain Blues" after the name of a mountain in Cumberland County, Tenn., however, "The Lost Child" is the basic melody for the tune. Curly Fox changed the name from "Black Mountain Blues" to "Black Mountain Rag" on his 1947 recording for King, which eventually sold over 600,000 copies. Several 'black mountains' have been suggested as the one referred to in the title, including one of the tallest peaks east of the Mississippi, Mount Mitchell. Mitchell was apparently called by various names in the past, beginning with Grey Eagle (due to a rock formation on its side). Later it became known as Black Mountain because of the dark appearance of the balsams at the top. The tune appears in a list of "traditional" fiddle tunes common to the Ozark Mountains, compiled by musicologist/folklorist Vance Randolph in 1954. It was also a favorite "trick" fiddling tune in the Texas tradition. (The Fiddler's Companion)