Bonaparte's Retreat (Pee Wee King)
This is an online fiddle lesson for the bluegrass song "Bonaparte's Retreat" in the style of PeeWee King.
BluegrassDaddy.com is your best source for Bluegrass, Old Time, Celtic, Gospel, and Country fiddle lessons!
Genre: Bluegrass
Skill Level: Intermediate
Keys of Bb, D and C
You may download and use any of the MP3s and tablature for your personal use. However, please do not make them available online or otherwise distribute them.
NOTE: If multiple fiddle lessons and MP3s are loading at once, this page will get slow! I recommend that you refresh the page each time you open a new video or MP3.
Video #1: Here is a video of me playing the song "Bonaparte's Retreat."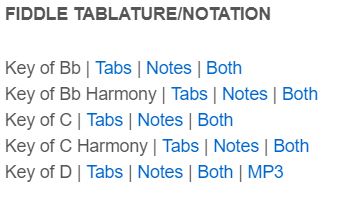 "Bonaparte's Retreat" is the name of two related songs. The original was a wordless melody that existed as various fiddle tunes dating back to at least the late 1800s and probably well before that. In 1950, American country music artist Pee Wee King recorded a modified version of the song, with lyrics added, which he also called "Bonaparte's Retreat". This latter song has been covered by many country artists.
The title of the original "Bonaparte's Retreat" is an apparent reference to Napoleon Bonaparte's disastrous retreat from Russia in 1812, and some earlier British folk songs told of that event.
In 1937, American ethnomusicologist Alan Lomax, while traveling through Kentucky, recorded violinist William Hamilton Stepp playing "Bonaparte's Retreat." This recording was inducted in 2016 into the Library of Congress's National Recording Registry.
source: wikipedia
Bonaparte's Retreat

Met the girl I love in a town way down in Dixie
Beneath the stars up above
She was the sweetest girl I ever did see

So I held her in my arms and told her of her many charms, I
Kissed her while the fiddle played
The Bonaparte's Retreat

All the world was bright as I held her on that night
And I heard her say
Please don't you go away