Faded Love
This is an online fiddle lesson for the country tune "Faded Love" by Bob Wills.
On this page, I teach three lessons. First, a simple beginner version based on the Bob Wills melody. Next, an intermediate version which consists of the three breaks Johnny Gimble plays on the Willie Nelson / Ray Price single. Finally, I teach the advanced Bobby Hicks version.
BluegrassDaddy.com is your best source for Bluegrass, Old Time, Celtic, Gospel, and Country fiddle lessons!
Genre: Country, Bluegrass
Skill Level: Beginner, Intermediate, Advanced
Key of D
You may download and use any of the MP3s and tablature for your personal use. However, please do not make them available online or otherwise distribute them.
NOTE: If multiple fiddle lessons and MP3s are loading at once, this page will get slow! I recommend that you refresh the page each time you open a new video or MP3.
Video #1: Here is a video of me performing the beginner (Bob Wills), intermediate (Johnny Gimble), and advanced (Bobby Hicks) breaks of "Faded Love."
Video #2: Here is a video of me and the girls performing the Willie Nelson / Ray Price version of "Faded Love" with the Johnny Gimble fiddle breaks.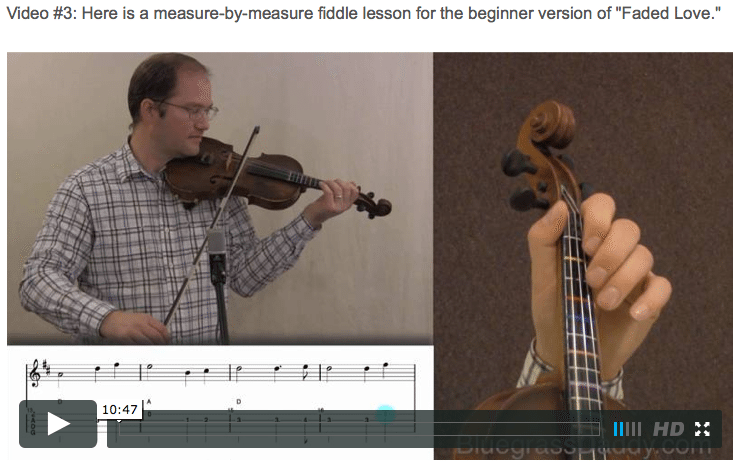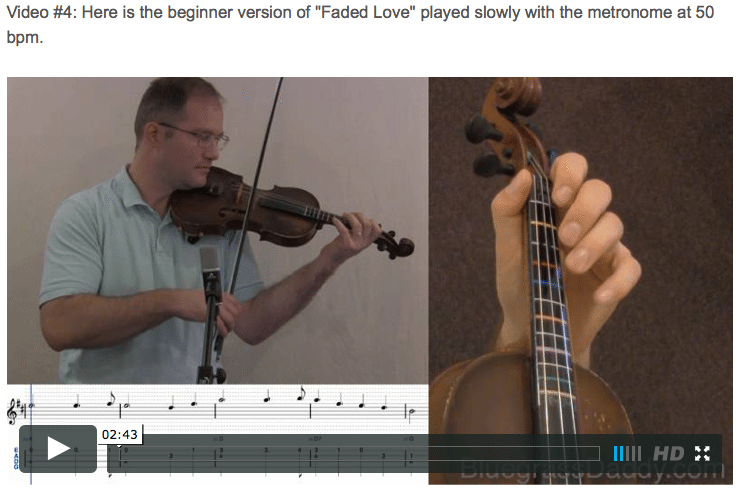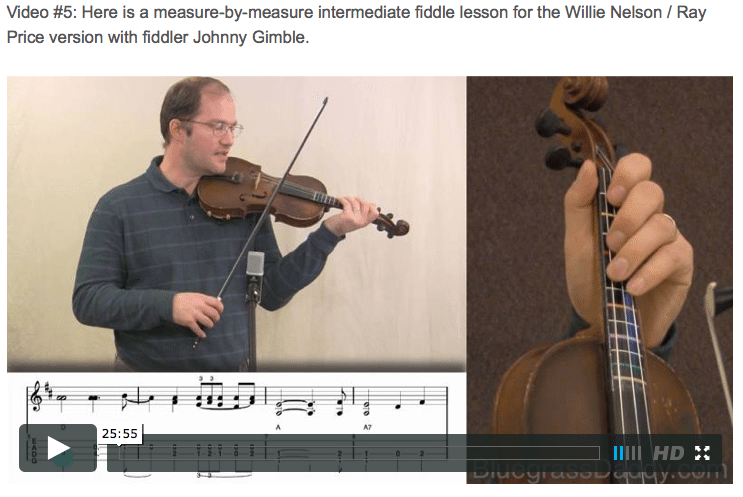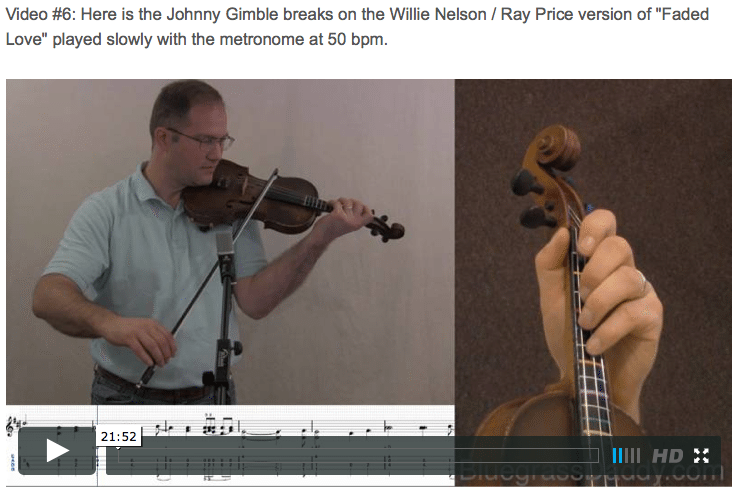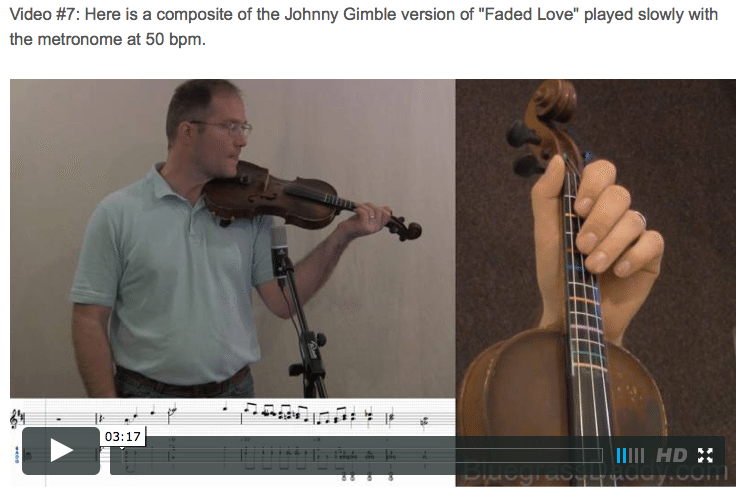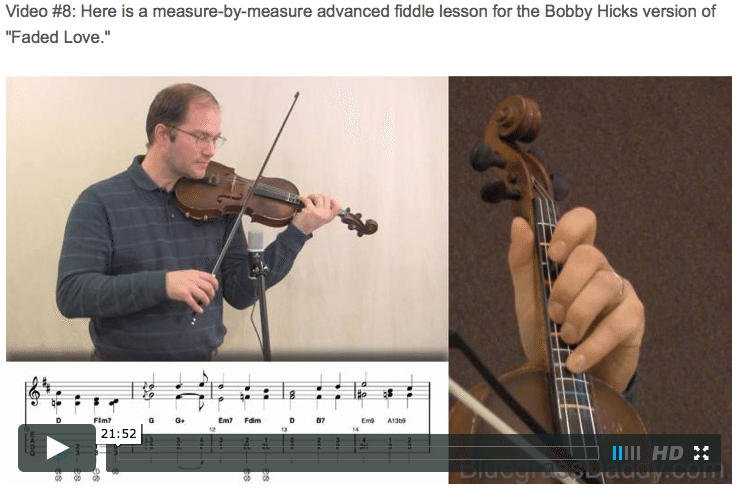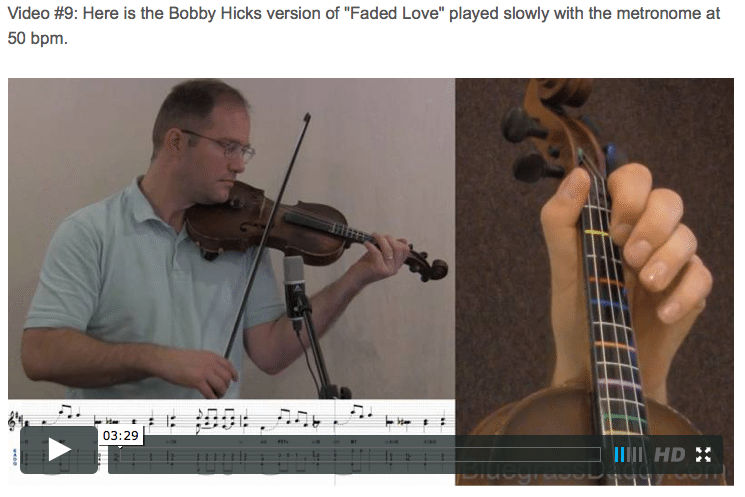 "Faded Love" is a Western swing song written by Bob Wills, his father John Wills, and his brother, Billy Jack Wills. The tune is considered to be an exemple of the Western swing fiddle component of American fiddle. The melody came from an 1856 ballad, Darling Nelly Gray, which John Wills knew as a fiddle tune. "Faded Love" is a sentimental song about lost love. The name comes from the refrain that follows each verse:
I remember our faded love.
The song was a major hit for Bob Wills and The Texas Playboys (MGM K10786) reaching No.8 on the Country charts in 1950. It became one of his signature songs.
source: wikipedia.com
Faded Love
As I look at the letters that you wrote to me it's you that I am thinking of
As I read the lines that to me were so dear I remember our faded love
Refrain:
I miss you darling more and more every day
As heaven would miss the stars above
And with every heartbeat I still think of you and remember our faded love
As I think of the past and all the pleasures we've had
As I watch the mating of the dove
It was in the springtime that you said goodbye I remember our faded love