Gardenia Waltz
This is an online fiddle lesson for the tune "Gardenia Waltz." This song is for my friend Carlos Salazar.
BluegrassDaddy.com is your best source for Bluegrass, Old Time, Celtic, Gospel, and Country fiddle lessons!
Genre: Country
Skill Level: Advanced
Key of G
You may download and use any of the MP3s and tablature for your personal use. However, please do not make them available online or otherwise distribute them.
NOTE: If multiple fiddle lessons and MP3s are loading at once, this page will get slow! I recommend that you refresh the page each time you open a new video or MP3.
Video #1: Here is a video of me performing the fiddle tune "Gardenia Waltz."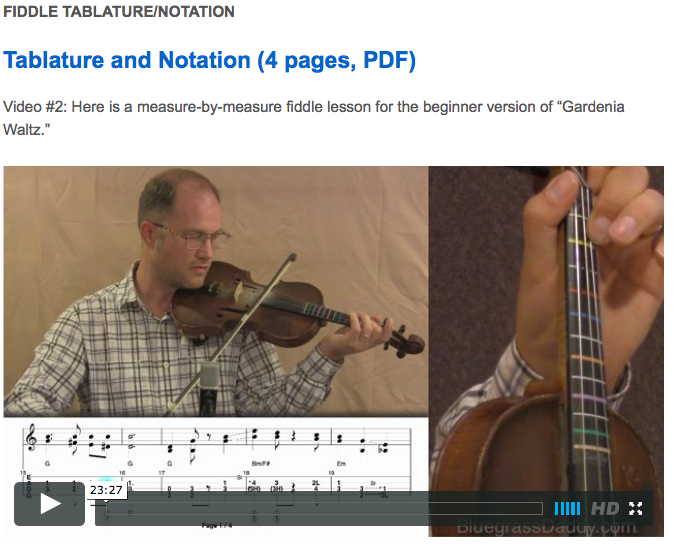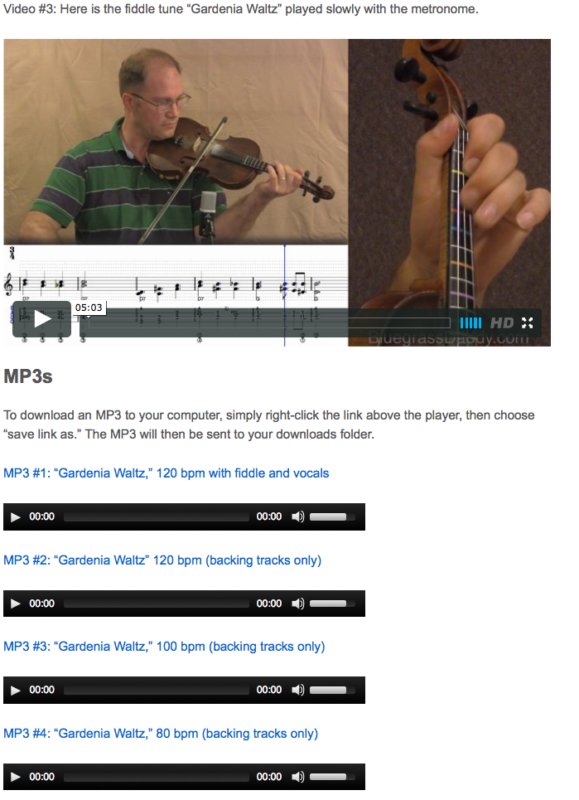 "Gardenia Waltz" was written by Johnny Gimble.
Johnny Gimble was born in Bascom, Texas, (east of Tyler). He began playing in a band with his brothers at age 12, and continued playing with two of them, George and Jerry, as the Rose City Swingsters. The trio played local radio gigs, but soon after Gimble moved to Louisiana and began performing with Jimmie Davis. Late in the 1940s, he joined Bob Wills's band, the Texas Playboys. With Wills, he played both fiddle and electric mandolin, and distinguished himself by using a five-string fiddle (most fiddles have four strings). He broke off to form his own group in 1951, performing as the house band at Wills's club, but rejoined in 1953 and continued to play with Wills until the early 1960s. He played fiddle on Marty Robbins' #1 hit "I'll Go on Alone".
Gimble left the music business briefly, working in a barbershop and a hospital, until 1969 when he and Wills began recording together again. From this time on he enjoyed steady work as a session musician, including with Merle Haggard on his Bob Wills tribute album and Chet Atkins on Superpickers in 1973. The following year he took a cue from a song he wrote and performed on the Atkins' Superpickers album, Fiddlin' Around and recorded the first of ten solo albums, Fiddlin' Around.
Since the late 1970s, he has won five Best Instrumentalist awards from the Country Music Awards and eight Best Fiddle Player awards from the Academy of Country Music. From 1979 to 1981, Gimble toured with Willie Nelson worldwide. In 1983, Gimble assembled a Texas swing group featuring Ray Price on vocals, and charted a country radio hit with "One Fiddle, Two Fiddle," featured in the Clint Eastwood movie Honkytonk Man. Gimble was also nominated for a Grammy award for his performance on the 1993 Mark O'Connor album Heroes.
Gimble continues to perform, and has appeared in the 1990s and 2000s on Austin City Limits and on Garrison Keillor's television broadcasts. Gimble also has spent several years teaching fiddle, ensuring that the style of western fiddle playing is passed on to the next generation. Gimble was also a member of the Million Dollar Band. His latest album is Celebrating with Friends. (wikipedia)