His Eye Is on the Sparrow
This is an online fiddle lesson for the gospel song "His Eye Is on the Sparrow."
This song is by special request for my friend Rock.
BluegrassDaddy.com is your best source for Bluegrass, Old Time, Celtic, Gospel, and Country fiddle lessons!
Genre: Gospel
Skill Level: Beginner
Keys of A, D, C and Bb
You may download and use any of the MP3s and tablature for your personal use. However, please do not make them available online or otherwise distribute them.
NOTE: If multiple fiddle lessons and MP3s are loading at once, this page will get slow! I recommend that you refresh the page each time you open a new video or MP3.
Video #1: Here is a video of me performing the gospel song "His Eye Is on the Sparrow in Bb."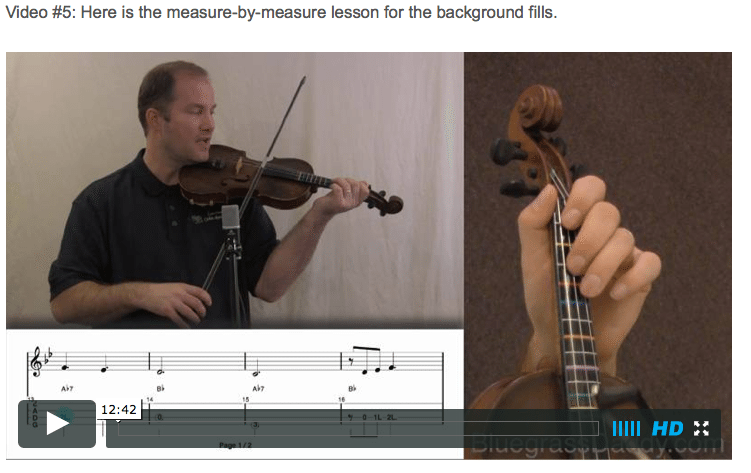 "His Eye Is on the Sparrow" is a Gospel hymn written in 1905 by Civilla D. Martin. Mrs. Martin said this about her inspiration to write the song:
"Early in the spring of 1905, my husband and I were sojourning in Elmira, New York. We contracted a deep friendship for a couple by the name of Mr. and Mrs. Doolittle—true saints of God. Mrs. Doolittle had been bedridden for nigh twenty years. Her husband was an incurable cripple who had to propel himself to and from his business in a wheel chair. Despite their afflictions, they lived happy Christian lives, bringing inspiration and comfort to all who knew them. One day while we were visiting with the Doolittles, my husband commented on their bright hopefulness and asked them for the secret of it. Mrs. Doolittle's reply was simple: "His eye is on the sparrow, and I know He watches me." The beauty of this simple expression of boundless faith gripped the hearts and fired the imagination of Dr. Martin and me. The hymn "His Eye Is on the Sparrow" was the outcome of that experience."
The next day she mailed the po­em to Charles Gab­ri­el, who sup­plied the mu­sic.
Sing­er Ethel Wa­ters so loved this song that she used its name as the ti­tle for her au­to­bi­og­ra­phy. The song has been recorded by many notable artists including  Ethel Waters, Mahalia Jackson, Dottie West, and Marvin Gaye. The melody of the song is slow, flexible to allow for much improvisation by the singer. The bluegrass version was popularized by Doyle Lawson and Quicksliver's 1986 album "Hymn Time in the Country." Although the song was written in 3/4 time, the Lawson version was inspired by a 1946 recording by R. H. Harris and the Soul Stirrers, sung in 4/4 time.
His Eye Is on the Sparrow

Why should I feel discouraged, why should the shadows come,
Why should my heart be lonely, and long for heaven and home,
When Jesus is my portion? My constant friend is He:
His eye is on the sparrow, and I know He watches me;
His eye is on the sparrow, and I know He watches me.

I sing because I'm happy,
I sing because I'm free,
For His eye is on the sparrow,
And I know He watches me.

"Let not your heart be troubled," His tender word I hear,
And resting on His goodness, I lose my doubts and fears;
Though by the path He leadeth, but one step I may see;
His eye is on the sparrow, and I know He watches me;
His eye is on the sparrow, and I know He watches me.

Refrain

Whenever I am tempted, whenever clouds arise,
When songs give place to sighing, when hope within me dies,
I draw the closer to Him, from care He sets me free;
His eye is on the sparrow, and I know He watches me;
His eye is on the sparrow, and I know He watches me.

Refrain