Old Rugged Cross (The)
This is an online fiddle lesson for the hymn "The Old Rugged Cross."
BluegrassDaddy.com is your best source for Bluegrass, Old Time, Celtic, Gospel, and Country fiddle lessons!
Genre: Gospel
Skill Level: Beginner, Intermediate
Keys of D and G
You may download and use any of the MP3s and tablature for your personal use. However, please do not make them available online or otherwise distribute them.
NOTE: If multiple fiddle lessons and MP3s are loading at once, this page will get slow! I recommend that you refresh the page each time you open a new video or MP3.
Video #1: Here is a video of me playing the hymn "The Old Rugged Cross."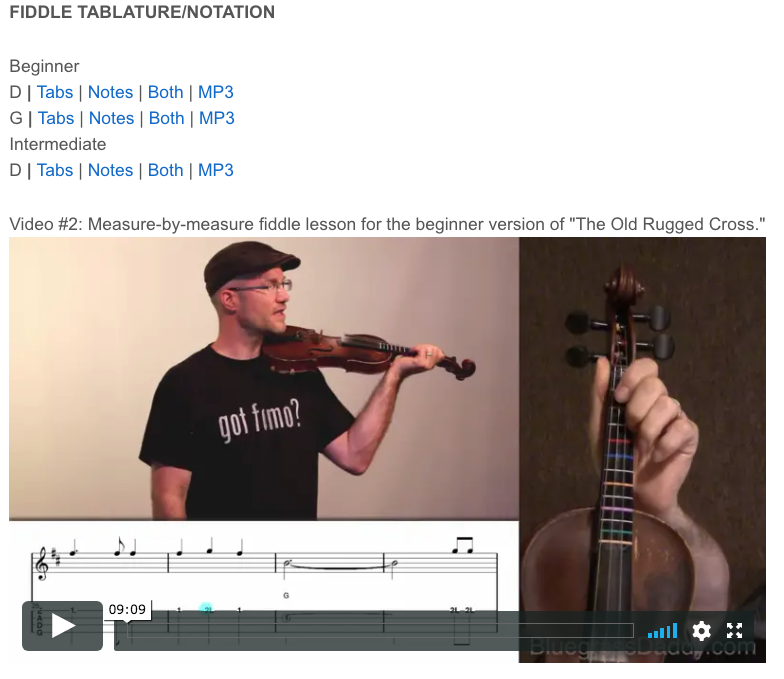 "The Old Rugged Cross" is a popular hymn written in 1912 by evangelist and song-leader George Bennard (1873–1958).
George Bennard was a native of Youngstown, Ohio, but was reared in Iowa. After his conversion in a Salvation Army meeting, he and his wife became brigade leaders before leaving the organization for the Methodist Church. As a Methodist evangelist, Bennard wrote the first verse of "The Old Rugged Cross" in Albion, Michigan, in the fall of 1912 as a response to ridicule that he had received at a revival meeting. Bennard traveled with Ed E. Mieras from Chicago to Sturgeon Bay, Wisconsin where they held evangelistic meetings at the Friends Church from December 29, 1912 to January 12, 1913. During the meetings Rev. George Bennard finished "The Old Rugged Cross" and on the last night of the meeting Bennard and Mieras performed it as a duet before a full house with Pearl Torstensen Berg, organist for the meeting, as accompanist. Bennard retired to Reed City, Michigan, and the town maintains a museum dedicated to his life and ministry. A memorial has also been created in Youngstown at Lake Park Cemetery. A plaque commemorating the first performance of the song stands in front of the Friend's Church in Sturgeon Bay, WI.
source: wikipedia
The Old Rugged Cross

On a hill far away stood an old rugged cross,
the emblem of suffering and shame;
and I love that old cross where the dearest and best
for a world of lost sinners was slain.

Refrain:
So I'll cherish the old rugged cross,
till my trophies at last I lay down;
I will cling to the old rugged cross,
and exchange it some day for a crown.

O that old rugged cross, so despised by the world,
has a wondrous attraction for me;
for the dear Lamb of God left his glory above
to bear it to dark Calvary. 

In that old rugged cross, stained with blood so divine,
a wondrous beauty I see,
for 'twas on that old cross Jesus suffered and died,
to pardon and sanctify me.

To that old rugged cross I will ever be true,
its shame and reproach gladly bear;
then he'll call me some day to my home far away,
where his glory forever I'll share.