Orange Blossom Special
This is an online fiddle lesson for the tune "Orange Blossom Special."
BluegrassDaddy.com is your best source for Bluegrass, Old Time, Celtic, Gospel, and Country fiddle lessons!
Genre: Bluegrass, Old Time
Skill Level: Advanced
Key of E to A
You may download and use any of the MP3s and tablature for your personal use. However, please do not make them available online or otherwise distribute them.
NOTE: If multiple fiddle lessons and MP3s are loading at once, this page will get slow! I recommend that you refresh the page each time you open a new video or MP3.
Video #1: Here is a video of me performing the fiddle tune "Orange Blossom Special" with bluegrass backing tracks.
BONUS! (By special request): I have also transcribed the sheet music and tablature for the Annie Staninec version as seen in the video below: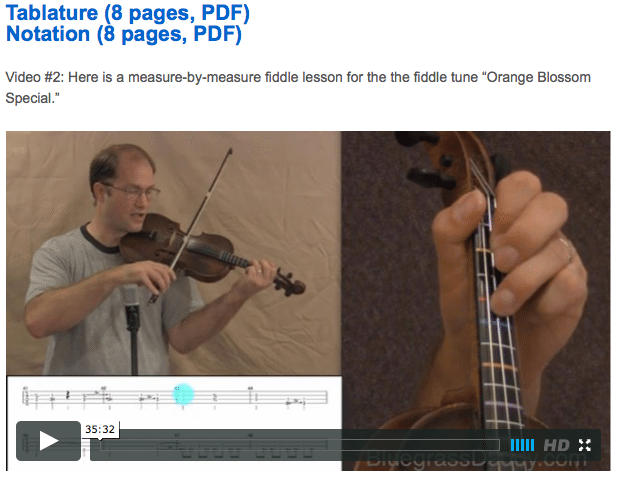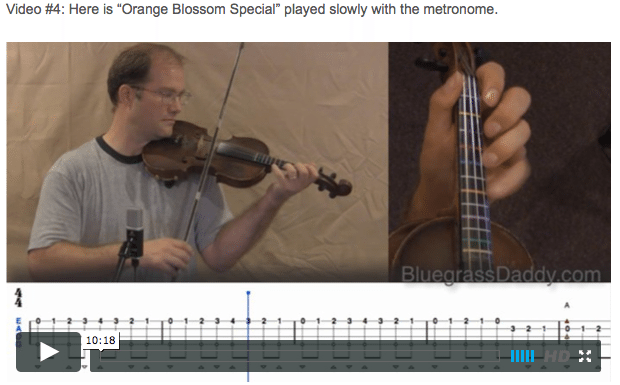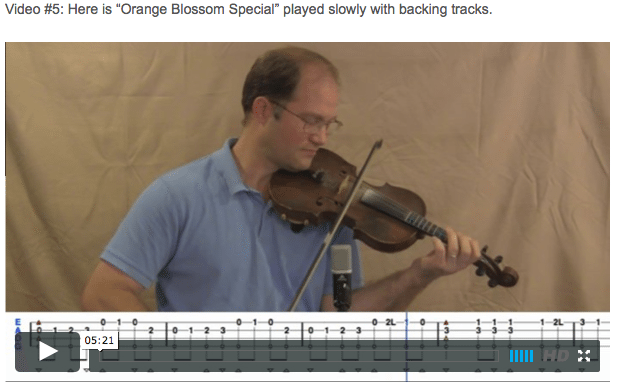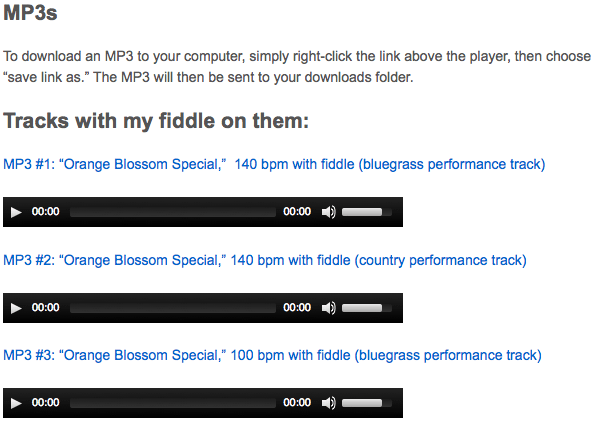 The fiddle tune "Orange Blossom Special," about the passenger train of the same name, was written by Ervin T. Rouse (1917–1981) in 1938. The original recording was created by Ervin and Gordon Rouse in 1939. It is often called simply The Special. It has been referred to as the fiddle player's national anthem.  (wikipedia.org)
The Orange Blossom Special was a deluxe passenger train on the Seaboard Air Line Railroad and connecting railroads between New York City and Miami in the United States. It ran during the winter season only.
It covered 1372 miles on the Pennsylvania Railroad from New York City to Washington, D.C., the Richmond, Fredericksburg and Potomac Railroad from Washington to Richmond, and the Seaboard Air Line Railroad from Richmond via Raleigh, Columbia, and Savannah to Miami. A section also went to Tampa and St. Petersburg.
The train started on November 21, 1925 and was the brainchild of SAL president S. Davies Warfield, who wanted to capitalize on booming development in Florida at the time. Warfield believed Florida was a land of opportunity, and with fast, luxurious trains he could lure influential (not to mention wealthy) business leaders to the Sunshine State. In February 1926 the train took 35 hours New York to West Palm Beach (Seaboard track didn't reach Miami until 1927).  (wikipedia.org)
Orange Blossom Special

Look a-yonder comin'
Comin' down that railroad track
Hey, look a-yonder comin'
Comin' down that railroad track
It's the Orange Blossom Special
Bringin' my baby back
Well, I'm going down to Florida
And get some sand in my shoes
Or maybe Californy
And get some sand in my shoes
I'll ride that Orange Blossom Special
And lose these New York blues
"Say man, when you going back to Florida?"
"When am I goin' back to Florida? I don't know, don't reckon I ever will."
"Ain't you worried about getting your nourishment in New York?"
"Well, I don't care if I do-die-do-die-do-die-do-die."
Hey talk about a-ramblin'
She's the fastest train on the line
Talk about a-travellin'
She's the fastest train on the line
It's that Orange Blossom Special
Rollin' down the seaboard line