Salt Creek / Salt River
This is an online fiddle lesson for the tune "Salt River" in the style of Clark Kessinger and "Salt Creek" in the bluegrass style of Bill Monroe. BluegrassDaddy.com is your best source for Bluegrass, Old Time, Celtic, Gospel, and Country fiddle lessons!
Genre: Bluegrass, Old Time
Skill Level: Intermediate, Advanced
Key of A
You may download and use any of the MP3s and tablature for your personal use. However, please do not make them available online or otherwise distribute them.
NOTE: If multiple fiddle lessons and MP3s are loading at once, this page will get slow! I recommend that you refresh the page each time you open a new video or MP3.
This is a long post, and it includes lessons, videos, and tablature in three different styles. First, I teach the Old Time style as played by Clark Kessinger on his 1928/29 Brunswick recording. Next, I teach the Bluegrass style as it was introduced by Bill Monroe when he recorded the tune in 1963, renaming it from "Salt River" to "Salt Creek." Finally, I teach one of my own advanced variations.
Video #1: To begin with, here is a video of me performing the fiddle tune "Salt Creek," all three styes at full speed (130 bpm).

Video #2: Here is a video of me performing the fiddle tune "Salt River" in the style of Clark Kessinger at 100 bpm.

Video #3: Here is a video of me performing the fiddle tune "Salt Creek" in the Bluegrass style at 100 bpm.

Video #4: Here is a video of me performing my own variation of the fiddle tune "Salt Creek" at 100 bpm.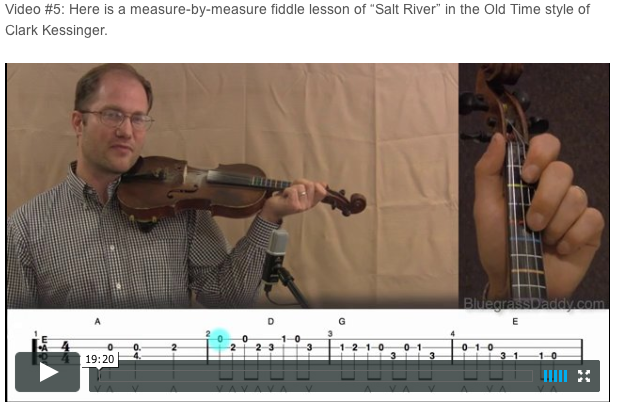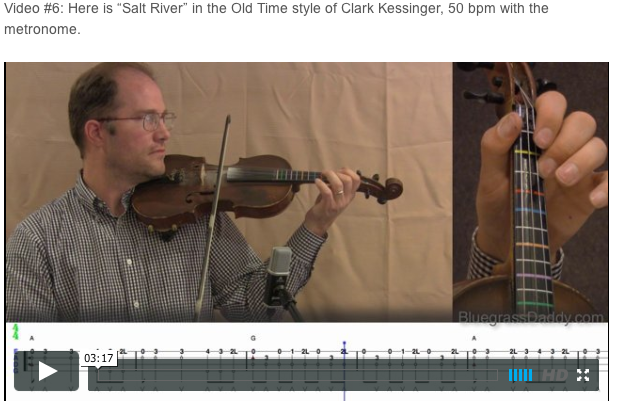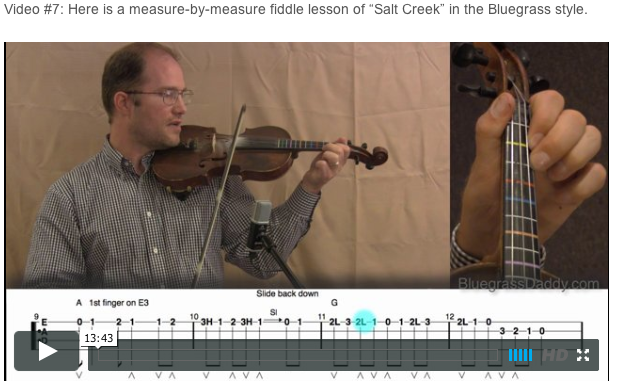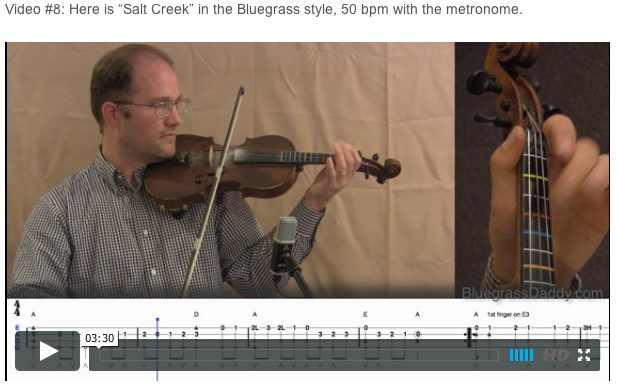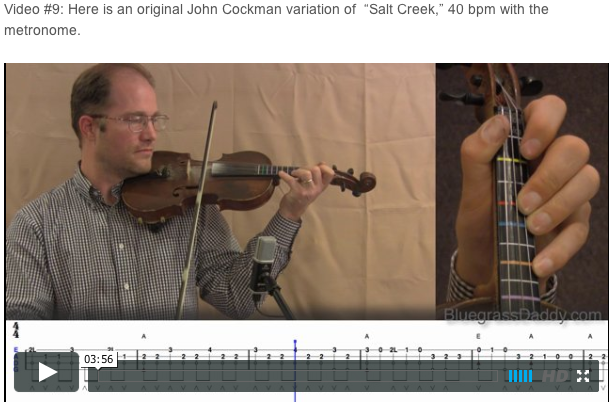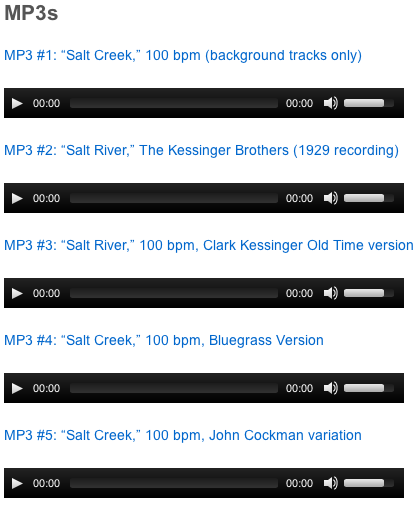 Clark Kessinger (July 27, 1896 - June 4, 1975) was an influential American old-time fiddler. Many of his fiddle tunes made their way to other fiddlers or into the bluegrass music genre.  Kessinger was born in South Hills, West Virginia.  He teamed up with his nephew Luches "Luke" Kessinger performing at various locations and running their own radio show out of WOBU in Charleston, WV.  Calling themselves The Kessinger Brothers, Clark and Luke made many recordings through the years, many of which were best-sellers. They were a band from 1906 until 1944, when Luke passed away.  The Kessinger Brothers recorded "Salt River" in 1928-29 in Ashland, KY, on the Brunswick Label.
Clark Kessinger continued to record and to win prizes at different fiddling contests. In April 1971, he won the World's Champion Fiddle Prize at the 47th Old-time Fiddler's Convention in Union Grove, North Carolina. (wikipedia)
"Salt River" probably refers to the river of that name in Kentucky. Bill Monroe and His Bluegrass Boys recorded this fiddle tune in 1964 under the title "Salt Creek" (Decca 31596), modifying the original name in honor of the creek in Indiana near where Monroe held his annual Bean Blossom Festival. Monroe's banjoist, Bill Keith, apparently got the tune originally from West Virginia banjoist Don Stover. The Monroe recording has given the tune a new lease on life on the bluegrass circuit. The tune's distribution seems to have been limited to Virginia and West Virginia before its bluegrsass diffusion in the later decades of the twentieth century.  (Library of Congress).