This is an online fiddle lesson for the country tune "Tennessee Waltz."
BluegrassDaddy.com is your best source for Bluegrass, Old Time, Celtic, Gospel, and Country fiddle lessons!
Genre: Country, Bluegrass
Skill Level: Intermediate, Advanced
Key of G and D
You may download and use any of the MP3s and tablature for your personal use. However, please do not make them available online or otherwise distribute them.
NOTE: If multiple fiddle lessons and MP3s are loading at once, this page will get slow! I recommend that you refresh the page each time you open a new video or MP3.
Video #1: Here is a video of me playing the country tune "Tennessee Waltz."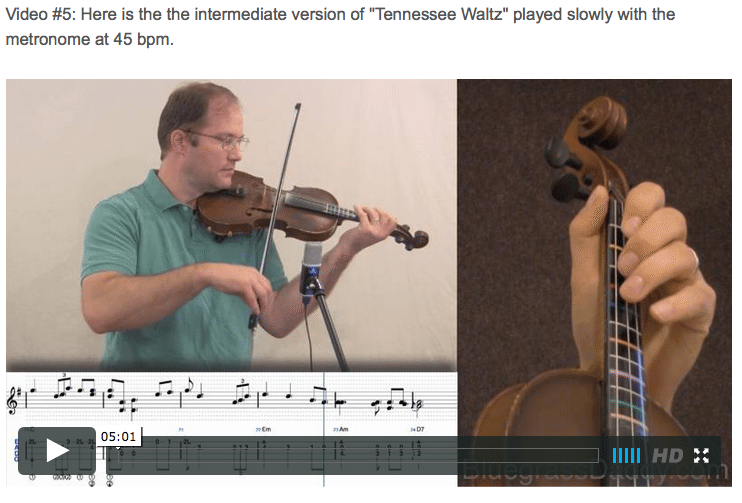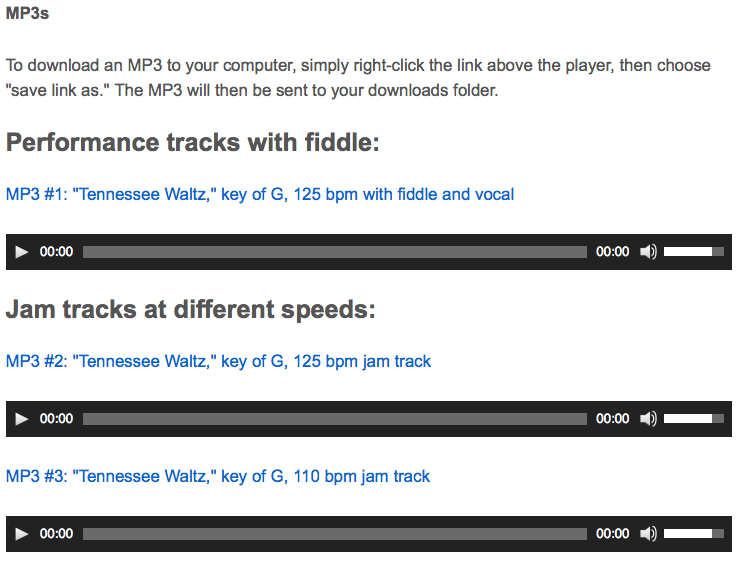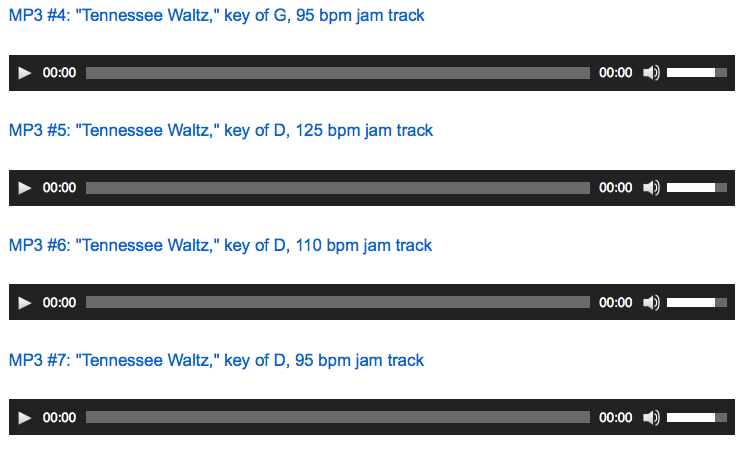 "Tennessee Waltz" is a popular/country music song with lyrics by Redd Stewart and music by Pee Wee King written in 1946 and first released in December 1947 as a single by Cowboy Copas that same year. The song became a multimillion seller via a 1950 recording – as "The Tennessee Waltz" – by Patti Page. As of 1974, it was the biggest selling song ever in Japan.
Pee Wee King, and most of his group, the Golden West Cowboys, were riding in a limousine in 1946 when he and vocalist Redd Stewart co-wrote the song. They were on their way to a Grand Ole Opry appearance in Nashville when they heard Bill Monroe's new "Kentucky Waltz" on the radio. Stewart began writing the lyrics on a matchbox while King and the other musicians hummed King's theme song, "No Name Waltz." King and Stewart presented "Tennessee Waltz" to music publisher Fred Rose the next day, and Rose adjusted one line of Stewart's lyric: "O the Tennessee waltz, O the Tennessee Waltz," to "I remember the night and the Tennessee Waltz." A considerable amount of time passed before Pee Wee King's Golden West Cowboys were able to record "Tennessee Waltz," their recording being made in a December 2, 1947 session at the RCA Victor Studio in Chicago. Cowboy Copas, who had formerly vocalized on the Golden West Cowboys' recordings and who still performed with the group, recorded the song for King Records just after the Golden West Cowboys, with Copas' version being released just prior to the Golden West Cowboys': both singles became Top Ten C&W hits – the chart was then known as "Best Selling Folk Retail Records" – in the spring and summer of 1948 with respective peaks of #3 (Pee Wee King's Golden West Cowboys) and #6 (Cowboy Copas).
source: Wikipedia
Tennessee Waltz

I was dancing with my darling to the Tennessee Waltz
When an old friend I happened to see
I introduced her to my loved one
And while they were dancing
My friend stole my sweetheart from me

Refrain:
I remember the night and the Tennessee Waltz
Now I know just how much I have lost
Yes, I lost my little darling the night they were playing
The beautiful Tennessee Waltz