Parting Glass
This is an online fiddle lesson for the song "The Parting Glass."
BluegrassDaddy.com is your best source for Bluegrass, Old Time, Celtic, Gospel, and Country fiddle lessons!
Genre: Celtic
Skill Level: Intermediate
Keys of C, D, G
You may download and use any of the MP3s and tablature for your personal use. However, please do not make them available online or otherwise distribute them.
NOTE: If multiple fiddle lessons and MP3s are loading at once, this page will get slow! I recommend that you refresh the page each time you open a new video or MP3.
Video #1: Here is a video of my family and me playing and singing the song "The Parting Glass."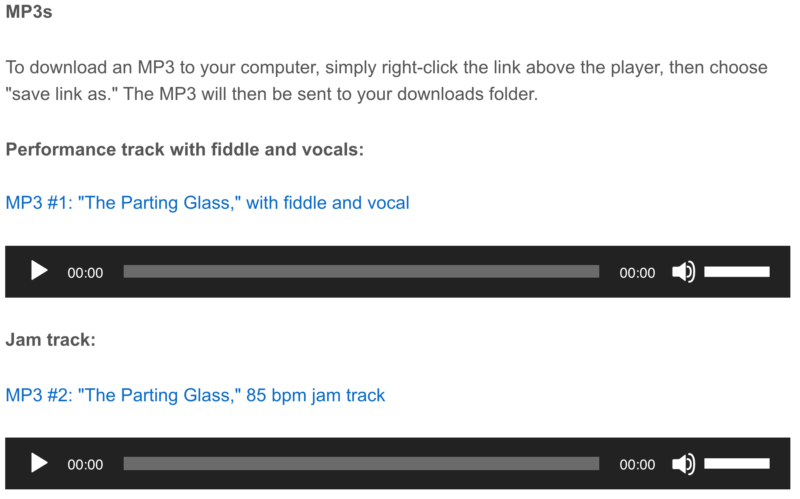 "The Parting Glass" is a Scottish traditional song, often sung at the end of a gathering of friends. It was purportedly the most popular parting song sung in Scotland before Robert Burns wrote "Auld Lang Syne."  The earliest known printed version was as a broadside in the 1770s and it first appeared in book form in "Scots Songs" by Herd. An early version is sometimes attributed to Sir Alex Boswell. The text is doubtless older than its 1770 appearance in broadside, as it was recorded in the Skene Manuscript, a collection of Scottish airs written at various dates between 1615 and 1635. It was known at least as early as 1605, when a portion of the first stanza was written in a farewell letter, as a poem now known as "Armstrong's Goodnight," by one of the Border Reivers executed that year for the murder in 1600 of Sir John Carmichael, Warden of the Scottish West March.
source:  wikipedia
The Parting Glass

Oh all the money that e'er I spent
I spent it in good company
And all the harm that e'er I've done
Alas, it was to none but me 
And all I've done for want of wit
To memory now I can't recall
So fill to me the parting glass
Good night and joy be with you all

Oh all the comrades that e'er I've had
Are sorry for my going away
And all the sweethearts that e'er I've had
Would wish me one more day to stay
But since it falls unto my lot
That I should rise and you should not
I'll gently rise and I'll softly call
Good night and joy be with you all
Good night and joy be with you all