Ben Cockman wins National Flatpick Guitar Championship
Great news today! My brother and band mate Ben Cockman of The Cockman Family has won the National Guitar Championship at the Walnut Valley Festival in Winfield, KS. Second place went to Scott Fore of Radford, VA and third place went to Tyler Grant from Boulder, CO. Our brother, Billy Cockman, won the National Banjo Championship there last year. That means that until the banjo championship on Sunday afternoon, the family has two reigning national champions. Ben has placed in the top five of nationals since he began competing in 2012, but this was his year to win the grand prize. First prize included $3,000 cash prize in memory of Brian Redford by the Redford family, a brand new Collings Winfield Model Clarence White Guitar, a trophy, a Fishman pickup, an Intellitouch tuner, an Elliott capo, plus strings and picks. We are very proud of him! Billy and Ben will be eligible to compete again in 2018 and 2019.
In 2012, Ben won all five Eastern guitar championships that offer a new guitar as a prize. These included the South Carolina State Flatpick Guitar Championship at Renofest in Hartsville, SC, the West Virginia State Flatpick Guitar Championship at the Robin Kessinger Festival in Charleston, WV, the New England Flatpick Guitar Championship at the Ossipee Music Festival in Maine, the Wayne C. Henderson Guitar Competition at Grayson Highlands State Park in Virginia, and the Doc Watson Guitar Championship at Merlefest in Wilkesboro, NC. Ben will be eligible to compete in these contests again in 2017.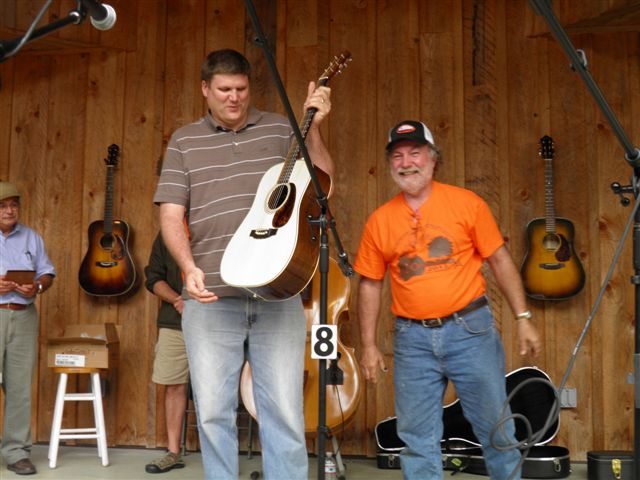 Ben Cockman winning the Wayne Henderson Guitar Competition