This is an online fiddle lesson for the tune "Londonderry Air," also known as "Danny Boy" by Frederic Weatherly.  This song is for my friend Tom Howell.
BluegrassDaddy.com is your best source for Bluegrass, Old Time, Celtic, Gospel, and Country fiddle lessons!
Genre: Celtic
Skill Level: Beginner
Keys of G, C, and D
You may download and use any of the MP3s and tablature for your personal use. However, please do not make them available online or otherwise distribute them.
NOTE: If multiple fiddle lessons and MP3s are loading at once, this page will get slow! I recommend that you refresh the page each time you open a new video or MP3.
Video #1: Here is a video of me performing the fiddle tune "Danny Boy."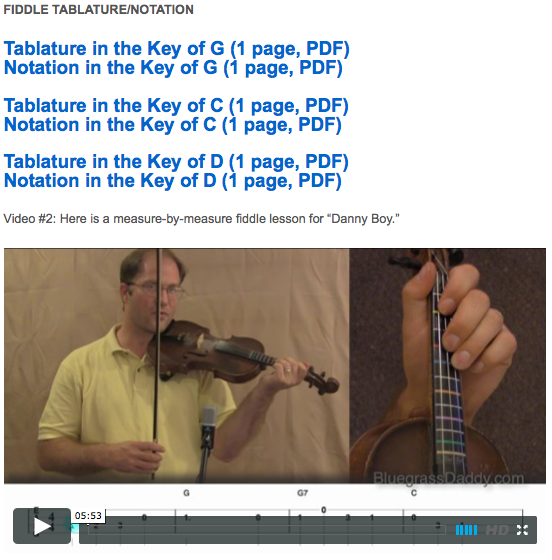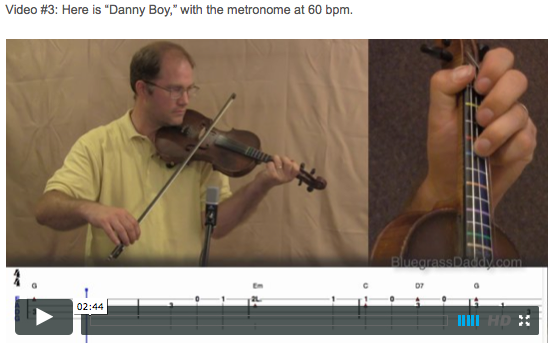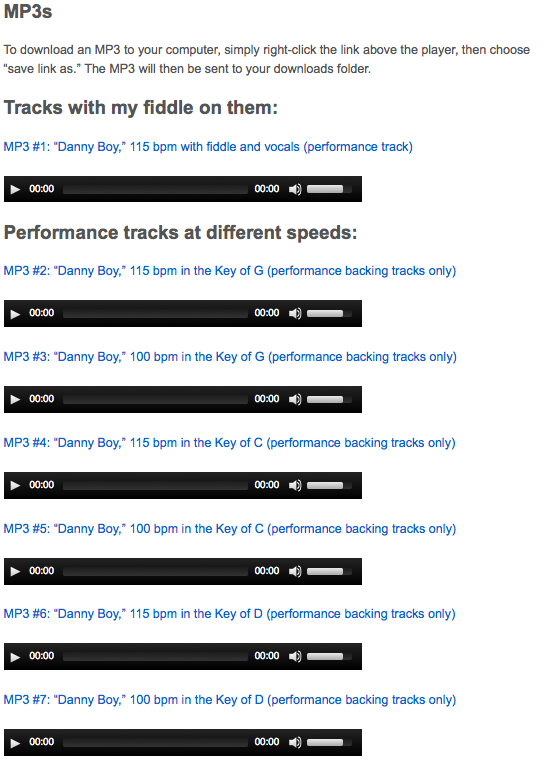 "Londonderry Air " is an air that originated from County Londonderry in Ireland (now Northern Ireland). It is popular among the Irish diaspora and is very well known throughout the world. The tune is played as the victory anthem of Northern Ireland at the Commonwealth Games.
The title of the air came from the name of County Londonderry in contemporary Northern Ireland. The air was collected by Jane Ross of Limavady.
Ross submitted the tune to music collector George Petrie, and it was then published by the Society for the Preservation and Publication of the Melodies of Ireland in the 1855 book The Ancient Music of Ireland, which Petrie edited.  The tune was listed as an anonymous air, with a note attributing its collection to Jane Ross of Limavady.
For the following beautiful air I have to express my very grateful acknowledgement to Miss J. Ross, of New Town, Limavady, in the County of Londonderry—a lady who has made a large collection of the popular unpublished melodies of the county, which she has very kindly placed at my disposal, and which has added very considerably to the stock of tunes which I had previously acquired from that still very Irish county. I say still very Irish, for though it has been planted for more than two centuries by English and Scottish settlers, the old Irish race still forms the great majority of its peasant inhabitants; and there are few, if any counties in which, with less foreign admixture, the ancient melodies of the country have been so extensively preserved. The name of the tune unfortunately was not ascertained by Miss Ross, who sent it to me with the simple remark that it was 'very old', in the correctness of which statement I have no hesitation in expressing my perfect concurrence.
This led to the descriptive title "Londonderry Air" being used for the piece; the title "Air from County Derry" or "Derry Air" is sometimes used instead, due to the Derry-Londonderry name dispute.  (wikipedia)
" can i buy Keppra over the counter in uk http://fantabulessgiveawaysandreviews.com/2016/04/1-year-backpacker-magazine-subscription-only-3-69/ Danny Boy" was initially written to a tune other than "Londonderry Air." The words to "Danny Boy" were penned by English lawyer and lyricist Frederic Weatherly in Bath, Somerset in 1910. After his Irish-born sister-in-law Margaret (known as Jess) in the United States sent him a copy of "Londonderry Air" in 1913, Weatherly modified the lyrics of "Danny Boy" to fit the rhyme and meter of "Londonderry Air".
Weatherly gave the song to the vocalist Elsie Griffin, who made it one of the most popular songs in the new century; and, in 1915, Ernestine Schumann-Heink produced the first recording of "Danny Boy". (wikipedia)
Danny Boy

Oh, Danny Boy, the pipes, the pipes are calling
From glen to glen, and down the mountain side,
The summer's gone, and all the roses falling,
It's you, it's you must go and I must bide.

But come ye back when summer's in the meadow,
Or when the valley's hushed and white with snow,
And I'll be here in sunshine or in shadow,
Oh, Danny Boy, oh Danny Boy, I love you so!

But when ye come, and all the flowers are dying,
If I am dead, as dead I well may be,
Ye'll come and find the place where I am lying,
And kneel and say an Ave there for me;

And I shall hear, though soft you tread above me,
And all my grave will warmer, sweeter be,
For you will bend and tell me that you love me,
And I shall sleep in peace until you come to me!