Man of Constant Sorrow
This is an online fiddle lesson for the tune "Man of Constant Sorrow." BluegrassDaddy.com is your best source for Bluegrass, Old Time, Celtic, Gospel, and Country fiddle lessons!
Genre: Bluegrass
Skill Level: Beginner, Intermediate
Key of G
You may download and use any of the MP3s and tablature for your personal use. However, please do not make them available online or otherwise distribute them.
NOTE: If multiple fiddle lessons and MP3s are loading at once, this page will get slow! I recommend that you refresh the page each time you open a new video or MP3.
Video #1: This video shows what you can do with long hair, a fiddle, and BluegrassDaddy.com backing tracks: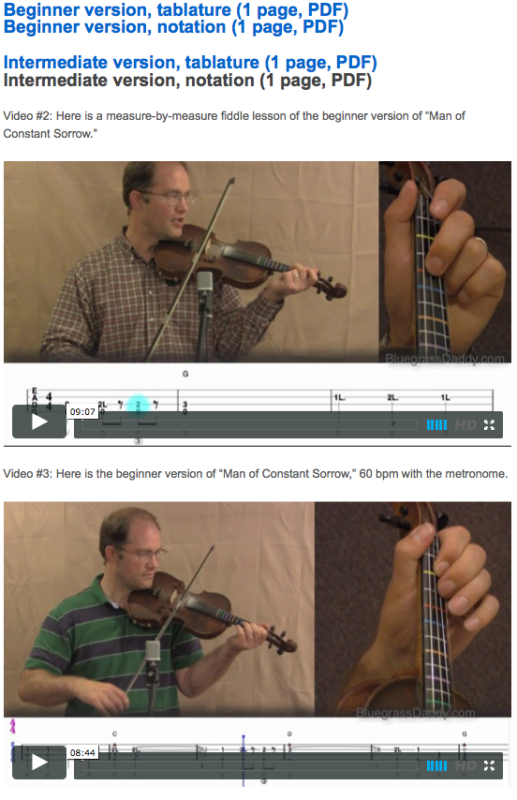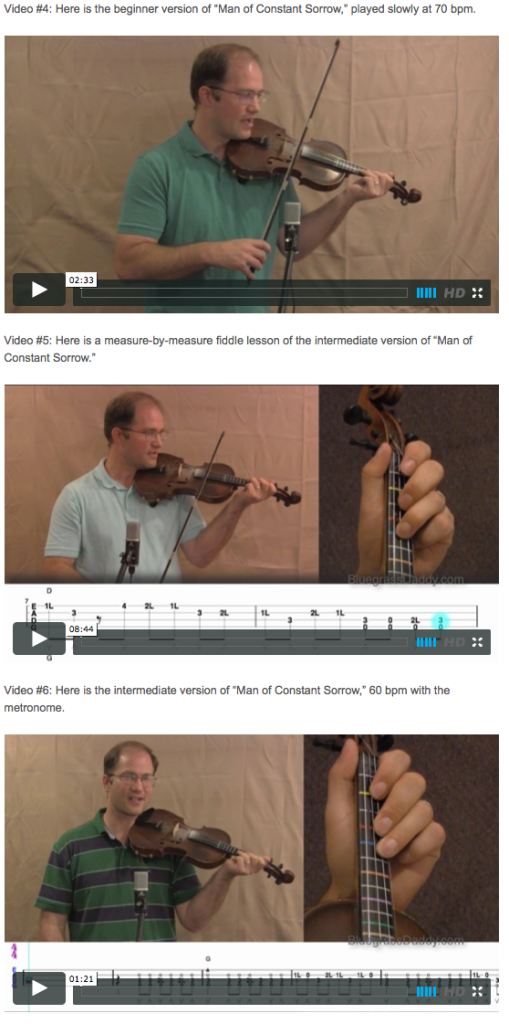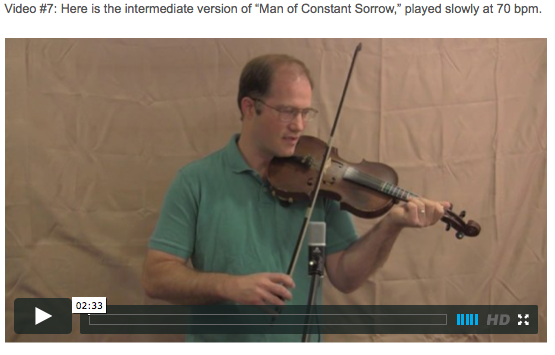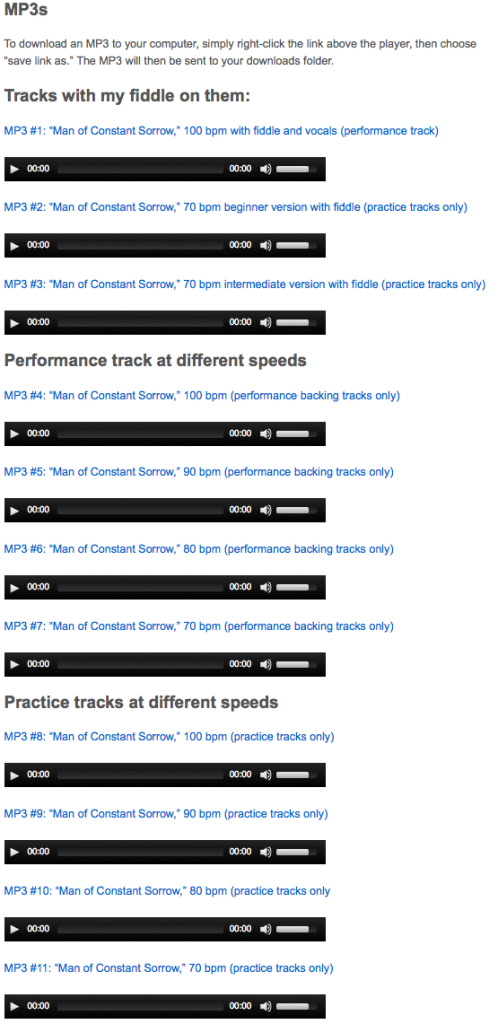 "Man of Constant Sorrow" (also known as "I Am a Man of Constant Sorrow") is a traditional American folk song first recorded by Dick Burnett, a partially blind fiddler from Kentucky. The song was originally recorded by Burnett as "Farewell Song" printed in a Richard Burnett songbook, about 1913. During 1918, Cecil Sharp collected the song and published it as "In Old Virginny" (Sharp II, 233). An early version was recorded by Emry Arthur in 1928 (Vocalion Vo 5208). Public interest in the song was renewed after the release of the 2000 film O Brother, Where Art Thou?, as it plays a central role in the film's plot. The song was also included in the film's highly successful, multiple-platinum-selling soundtrack.
Some uncertainty exists as to whether Dick Burnett himself wrote the song. One claim is that it was sung by the Mackin clan in 1888 in Ireland and that Cameron O'Mackin emigrated to Tennessee, brought the song with him, and performed it.
On October 13, 2009, on the Diane Rehm Show, Ralph Stanley of the Stanley Brothers, born in 1927, discussed the song, its origin, and his effort to revive it:
"Man of Constant Sorrow" is probably two or three hundred years old. But the first time I heard it when I was y'know, like a small boy, my daddy – my father – he had some of the words to it, and I heard him sing it, and we – my brother and me – we put a few more words to it, and brought it back in existence. I guess if it hadn't been for that it'd have been gone forever. I'm proud to be the one that brought that song back, because I think it's wonderful."
Stanley's autobiography is titled Man of Constant Sorrow. (wikipedia)

Man of Constant Sorrows

In constant sorrow all through his days

I am a man of constant sorrow
I've seen trouble all my days
I bid farewell to old Kentucky
The place where I was born and raised

The place where he was born and raised

For six long years I've been in trouble
No pleasures here on earth I found
For in this world I'm bound to ramble
I have no friends to help me now

He has no friends to help him now

It's fare thee well my old true lover
I never expect to see you again
For I'm bound to ride that northern railroad
Perhaps I'll die upon this train

Perhaps he'll die upon this train

You can bury me in some deep valley
For many years where I may lay
Then you may learn to love another
While I am sleeping in my grave

While he is sleeping in his grave

Maybe your friends think I'm just a stranger
My face you never will see no more
But there is one promise that is given
I'll meet you on God's golden shore

He'll meet you on God's golden shore