This is an online fiddle lesson for the country song "Sing Me Back Home" by Merle Haggard.
BluegrassDaddy.com is your best source for Bluegrass, Old Time, Celtic, Gospel, and Country fiddle lessons!
Genre: Country
Skill Level: Intermediate
Keys of A, G and E
You may download and use any of the MP3s and tablature for your personal use. However, please do not make them available online or otherwise distribute them.
NOTE: If multiple fiddle lessons and MP3s are loading at once, this page will get slow! I recommend that you refresh the page each time you open a new video or MP3.
Video #1: Here is a video of my daughters and me playing the country song "Sing Me Back Home" in the key of A.
Video #2: Here is a video of me playing the country song "Sing Me Back Home" in the key of G.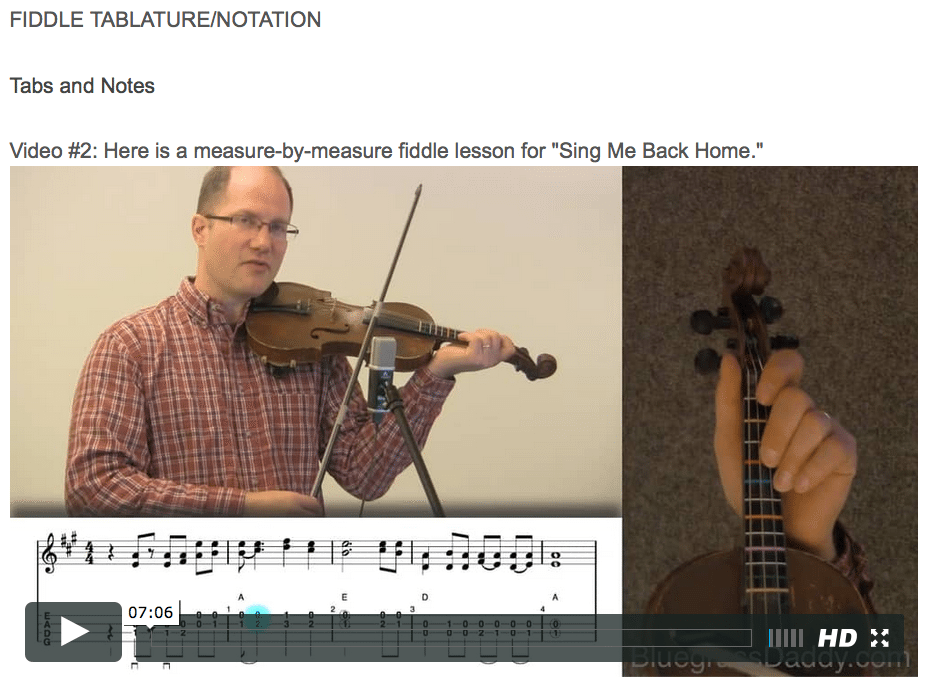 " buy viagra california buy Tastylia Oral Strip online no prescription Sing Me Back Home" is a song written and recorded by American country music artist Merle Haggard. It was released in November 1967 as the first single and title track from the album Sing Me Back Home. The song was Merle Haggard's third number one. The single spent two weeks at number one and a total of 17 weeks on the country chart. It was also recorded live by the Byrds on There Is a Season.
The song was among several notable Haggard songs that touched on a common theme of his 1960s and early 1970s recordings -- prison. Haggard himself spent three years at San Quentin State Prison in California for his role in a botched robbery. "Sing Me Back Home" draws upon his friendship with a fellow inmate, "Rabbit," who was executed after an escape attempt led to the death of a security guard.
source: Wikipedia
Sing Me Back Home

The warden led a prisoner down the hallway to his doom
I stood up to say good-bye like all the rest
And I heard him tell the warden just before he reached my cell
'Let my guitar playing friend do my request.' (Let him...)

Sing me back home with a song I used to hear
Make my old memories come alive
Take me away and turn back the years
Sing me back home before I die

I recall last Sunday morning a choir from off the street
Came in to sing a few old gospel songs
And I heard him tell the singers 'There's a song my mama sang.
Could I hear it once before you move along?'  (Won't you…)

Sing me back home with a song I used to hear
Make my old memories come alive
Take me away and turn back the years
Sing me back home before I die
Sing me back home before I die