Wagon Wheel – Darius Rucker Version
This is an online fiddle lesson for the Darius Rucker version of "Wagon Wheel."
BluegrassDaddy.com is your best source for Bluegrass, Old Time, Celtic, Gospel, and Country fiddle lessons!
Genre: Folk, Country
Skill Level: Beginner, Intermediate
Key of A
You may download and use any of the MP3s and tablature for your personal use. However, please do not make them available online or otherwise distribute them.
NOTE: If multiple fiddle lessons and MP3s are loading at once, this page will get slow! I recommend that you refresh the page each time you open a new video or MP3.
Video #1: Here is a video of me playing the Darius Rucker version of "Wagon Wheel."

Video #2: Here is a video of me playing the beginner break for "Wagon Wheel."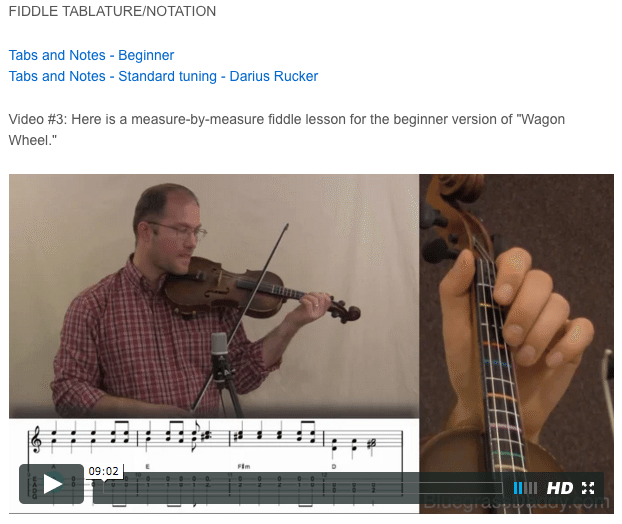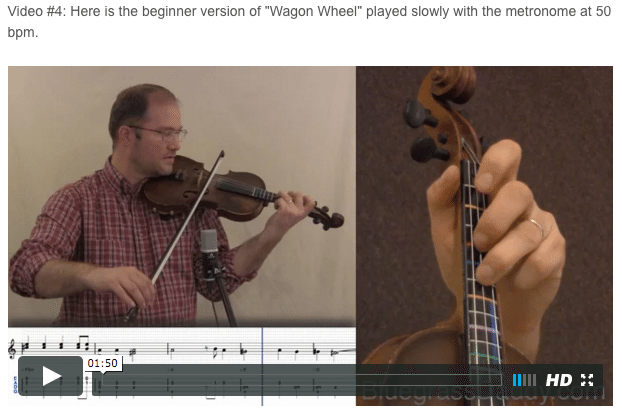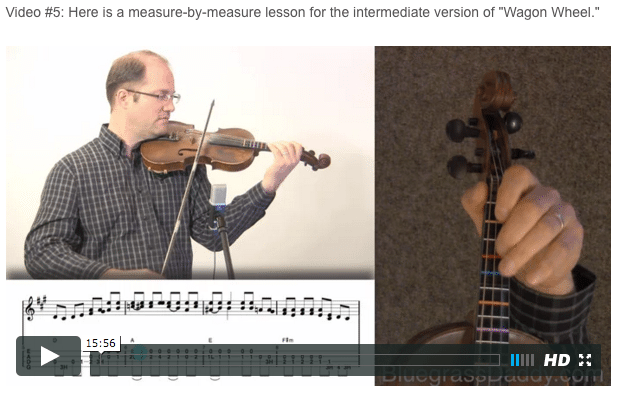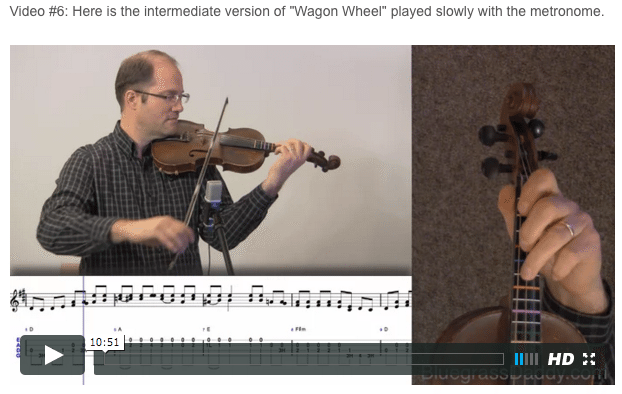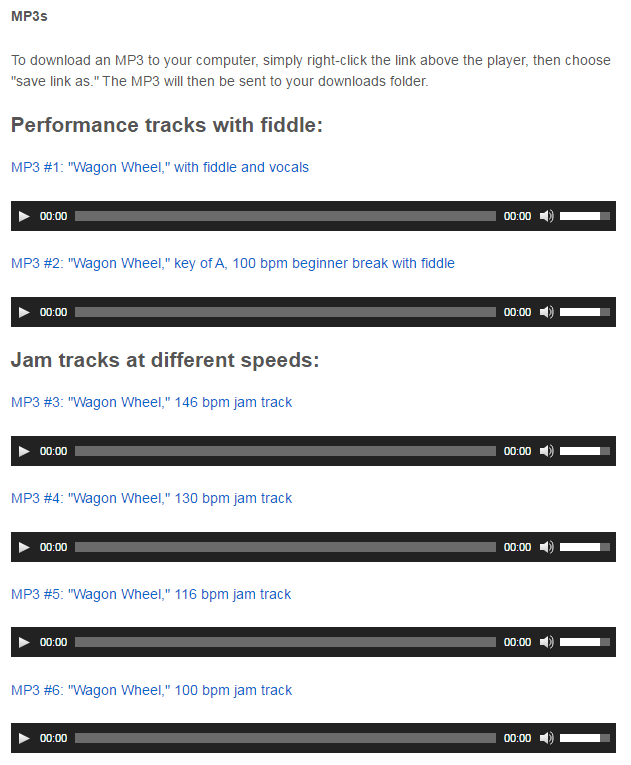 "Wagon Wheel" is a song originally sketched by Bob Dylan. It was later modified by Ketch Secor of Old Crow Medicine Show.  Old Crow Medicine Show's version was certified platinum by the Recording Industry Association of America in April 2013.  The song has been covered many times, most famously by Darius Rucker in 2013, who made it into a number one Hot Country Songs, and English singer Nathan Carter in 2012.
"Wagon Wheel" is composed of two different parts. The chorus and melody for the song come from a demo recorded by Bob Dylan during the Pat Garrett and Billy the Kid sessions. Although never officially released, the Dylan song was released on a bootleg and is usually named after the chorus and its refrain, "Rock Me Mama." Although Dylan left the song an unfinished sketch, Ketch Secor of Old Crow Medicine Show wrote verses for the song around Dylan's original chorus. Secor's additional lyrics transformed "Rock Me Mama" into "Wagon Wheel."
Chris "Critter" Fuqua, school friend and future bandmate, first brought home a Bob Dylan bootleg from a family trip to London containing a rough outtake called "Rock Me, Mama" (from the "Pat Garrett and Billy The Kid" soundtrack sessions) and passed it to Secor. Not "so much a song as a sketch, crudely recorded featuring most prominently a stomping boot, the candy-coated chorus and a mumbled verse that was hard to make out," the tune kept going through Secor's mind. A few months later, while attending Phillips Exeter Academy in New Hampshire, and "feeling homesick for the South," he added verses about "hitchhiking his way home full of romantic notions put in his head by the Beat poets and, most of all, Dylan."
Never officially released, besides the melody, only the chorus (or refrain) comes from the Dylan outtake:
So rock me mama like a wagon wheel
Rock me mama anyway you feel
Hey mama rock me
Rock me mama like the wind and the rain
Rock me mama like a south-bound train
Hey mama rock me
Secor's verses tell "the story of a man who travels from New England, through Philadelphia, PA and Roanoke, VA, down the eastern coast of the United States, ending up in Raleigh, North Carolina where he hopes to see his love." They contain a geographic impossibility: heading "west from the Cumberland Gap" to Johnson City, Tennessee "you'd have to go east." Secor explains: "I got some geography wrong, but I still sing it that way. I just wanted the word 'west' in there. 'West' has got more power than 'east.'" The Dylan outtake, generally titled "Rock Me Mama", came out of recording sessions for the Pat Garrett and Billy the Kid movie soundtrack (1973) in Burbank, California.
source: Wikipedia
Wagon Wheel

Headed down south to the land of the pines
I'm thumbin' my way into North Caroline
Starin' up the road
And pray to God I see headlights
I made it down the coast in seventeen hours
Pickin' me a bouquet of dogwood flowers
And I'm a hopin' for Raleigh
I can see my baby tonight

Refrain:
So rock me mama like a wagon wheel
Rock me mama anyway you feel
Hey mama rock me
Rock me mama like the wind and the rain
Rock me mama like a south-bound train
Hey mama rock me

Runnin' from the cold up in New England
I was born to be a fiddler in an old-time string band
My baby plays the guitar
I pick a banjo now
Oh, the North country winters keep a gettin' me now
Lost my money playin' poker so I had to up and leave
But I ain't a turnin' back
To livin' that old life no more

Refrain

Walkin' due south out of Roanoke
I caught a trucker out of Philly
Had a nice long toke
But he's a headed west from the Cumberland Gap
To Johnson City, Tennessee
And I gotta get a move on before the sun
I hear my baby callin' my name
And I know that she's the only one
And if I die in Raleigh
At least I will die free